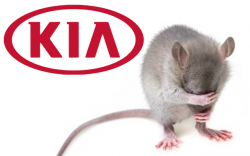 — A Kia soy-based wiring lawsuit alleges the soy wiring and materials cause rodents and other vermin to chew the wiring, causing all kinds of systems to fail and a huge expense to fix.
The proposed class-action lawsuit includes all current and former owners and lessees of 2012-2017 Kia Soul, Sorrento, Sedona, Sportage, Forte, Cadenza, Optima and Rio vehicles purchased or leased in California, Texas or New Jersey.
The Kia lawsuit was filed by plaintiffs Darla Campbell, Tristin Hibler and Michael Leppert who say the soy-based wiring invites rats, mice, rabbits and many other critters to have dinner, sticking Kia owners with the bill.
Plaintiff Campbell claims her 2014 Kia Optima was damaged in December 2016 when rodents chewed the wire harness and wiring. Campbell asked Kia to cover the repairs under warranty but after allegedly making her wait almost a month with the Kia Optima sitting at the dealership, Kia denied her claim for coverage.
Campbell says she paid $300 to repair the wiring because the insurance company would not pay for replacement wiring.
Plaintiff Hibler says her 2017 Kia Sorrento has been damaged twice since she purchased the vehicle in June of 2016. The first incident occurred in January 2017 when the engine harness was chewed, leaving a repair cost of $2,409.18 that Kia wouldn't pay. Hibler says she paid $995 and her insurer paid $1,414.18.
The second incident occurred in April 2017 when the wire harness and washer fluid hose were chewed, adding another $2,660.77 in repairs. Hibler paid $1,241.49 and her insurer paid $1,419.28.
Plaintiff Leppert has leased two Kia vehicles, both allegedly damaged because of the soy-based wiring. The lawsuit claims a 2013 Kia Soul was chewed by a rodent in August 2014 and Kia refused to cover the expense, so Leppert paid $294.25.
In June 2017, Leppert's 2016 Kia Forte was allegedly chewed again by a rodent, costing another $128.25 for repairs.
Kia and other automakers began replacing the insulation covering their vehicles' wiring with soy-based insulators instead of the petroleum-based plastic ones. Kia also began using soy-based materials to build certain engine-related components.
These soy-based insulated wires and engine-related components were intended to be biodegradable and more "environmentally friendly" than traditional petroleum-based plastics.
Kia has allegedly concealed and failed to disclose the problems that occur from using soy-based materials, both prior to and after the time of purchase or lease.
As stated by the plaintiffs, the class-action lawsuit says Kia constantly refuses to cover the necessary repairs under warranty and merely removes the chewed soy-based materials and installs identically allegedly defective soy-based materials. The plaintiffs say this has turned the soy-based wiring into a "profit center" by making owners pay hundreds or thousands of dollars for repairs that don't work.
According to the lawsuit, Kia has known about problems with soy-based materials since at least 2013 through customer complaints, from talking with dealerships and from internal company research.
The plaintiffs also say the soy-based materials cause safety hazards as all kinds of systems can fail when the wiring is chewed or damaged. Common systems that can suffer include airbags, steering, braking, a complete loss of the electrical systems and engine failure.
The Kia soy-based wiring lawsuit was filed in the U.S. District Court for the Central District of California - Darla Campbell, Tristin Hibler, and Michael Leppert, et. al., v. Kia Motors America, Inc.
The plaintiffs are represented by Shepherd, Finkelman, Miller & Shah, LLP, Goldenberg Schneider, LPA, and Robert W. Murphy.
Separately, a lawsuit has been filed against Hyundai over the same soy-based wiring insulation.
Have a Kia car complaint to add? Add your complaint here, about any vehicle.