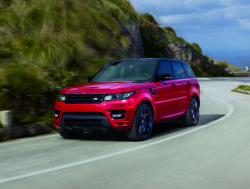 — The National Highway Traffic Safety Administration (NHTSA) has opened an investigation into a door latch recall ordered by Land Rover in 2015 concerning the automaker's Range Rover SUVs.
NHTSA learned about the 2015 recall when Land Rover contacted the agency about a defect that caused the electronically controlled door latch systems to fail and the doors to open while driving.
The recall saw Land Rover repair more than 65,000 model year 2013-2016 Range Rover and 2014-2016 Range Rover Sport SUVs because any of the doors could fail to latch in the primary or secondary closed positions.
The recalled SUVs are equipped with Land Rover's "Unilatch Keyless Vehicle" entry system and all the door latches are controlled by the Keyless Vehicle module.
The automaker said the problem was traced to a defect in the control logic for the keyless system release motor which blocked the release lever from returning to its "home" position. The condition made it appear the latch and striker were connected properly when in fact the door wasn't properly latched and closed.
To repair the problem, Land Rover dealers updated the keyless system software, but NHTSA says owners have complained about their doors opening after the recall repairs were made. Other owners report their doors opened, but their SUVs were never repaired because Land Rover didn't include all the affected vehicles in the recall.
The owner of a 2015 Range Rover described just how dangerous the door latch problem is when children are in the SUV. The driver was making a turn at about 15 mph with a nine-month-old child seated in the rear seat closest to the door.
"Another passenger was seated on the rear driver's side and quickly reached over the child's car seat to keep the child from falling from the moving vehicle. As a result, the passenger sustained fractured ribs. Medical attention was required." - 2015 Land Rover Range Rover owner / Edina, Minnesota
The owner told NHTSA the SUV was taken to a dealer where the software was updated and the lock replaced. The incident occurred after the 2015 door latch recall, but this specific Range Rover wasn't included in the recall.
The 2015 recall included Range Rovers manufactured until March 9, 2015, but the SUV that had its door unlatch and open was built on March 14, 2015, outside the recall period.
NHTSA calls its investigation a "recall query" to determine if the recall included enough Land Rover SUVs and if the repair procedures were good enough to permanently fix the door latch problems.
CarComplaints.com will update our website with results of the Range Rover and Range Rover Sport recall investigation.