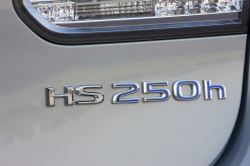 — Lexus is recalling about 18,000 model year 2010 Lexus HS 250h hybrid cars that could enter fail-safe mode because of problems with the transaxle assemblies.
The Lexus cars are equipped with hybrid vehicle transaxle assemblies which contain one generator for generating electrical power and starting the engine, and a second generator for driving the vehicle.
Lexus says the crimping of a plate which holds the magnets on the first generator motor shaft wasn't correct, causing the inner bore of the plate to wear and causing abnormal movement around the motor shaft. This causes the plate to contact the electric motor coil which leads to a short-circuit, illuminating warning lights and warning messages.
In most cases, the vehicle will enter a fail-safe mode which results in reduced motive power and allowing the vehicle to be driven safely, at least for a limited distance. However, it's possible the hybrid system could shut down and cause the Lexus to lose motive power while driving at any speed.
Lexus does point out that even with loss of forward motion, the power steering and power brakes will continue to function normally.
Lexus dealers will replace the hybrid transaxle assemblies when the Lexus HS 250h recall begins November 20, 2017.
Owners may contact the automaker at 800-255-3987 and ask for information about recall number HLE.