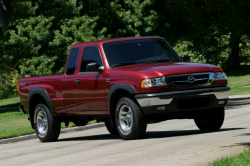 — Nearly 20,000 model year 2004-2006 Mazda B-series trucks are recalled (again) to replace Takata airbag inflators, allegedly for the last time.
The trucks have been recalled before because of the airbags, but Mazda replaced the Takata airbag inflators with the same type of inflators that contained ammonium nitrate without a drying agent.
Ammonium nitrate is the chemical in Takata airbags that creates what should be a small explosion to deploy the airbags in a crash. Instead, without the drying agent, moisture can make the ammonium nitrate unstable and turn the metal inflators into metal projectiles that kill and injure occupants.
Mazda says this will be the final recall of the trucks because the replacement airbag inflators do not contain ammonium nitrate and are not manufactured by Takata.
This latest recall involves all affected B-series trucks that had their passenger airbags replaced under the previous recall, which means more trips to dealers.
The B-series truck recall should begin January 17, 2018. Mazda dealers will replace the passenger frontal airbag inflators, but the automaker didn't say how long repairs will take.
Truck owners who have concerns should call 800-222-5500. Mazda's number for this recall is 1817L.
Read what owners say about their Mazda vehicles, or file a complaint about yours.