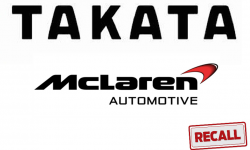 — McLaren Automotive is recalling nearly 360 model year 2012 MP4-12C cars to replace passenger-side Takata airbag inflators that may explode during a crash.
The recall includes cars in the following locations only:
Alabama, California, Florida, Georgia, Hawaii, Louisiana, Mississippi, South Carolina, Texas, Puerto Rico, American Samoa, Guam, the Northern Mariana Islands (Saipan) and the U.S. Virgin Islands.
McLaren says the passenger-side airbag modules are the problem because the metal inflators are located inside the modules. As seen in the recalls of tens of millions of vehicles because of Takata airbags, the inflators can explode and send shrapnel into occupants.
McLaren is sending notices to owners explaining to watch for second notices that will be mailed once repair parts are available. Affected 2012 MP4-12C owners with questions should call McLaren at 646-429-8916.
The Takata airbag fiasco is ongoing and dangerous. To keep up with the latest Takata news, read the CarComplaints.com Takata airbag recall guide.