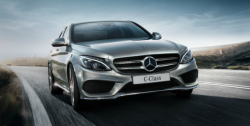 — Seat belts and seat belt pretensioners have been listed as the cause of many vehicle recalls and the latest Mercedes-Benz recall adds to the list.
The automaker says more than 12,700 vehicles are equipped with seat belt pretensioners that may fail in a crash.
Mercedes says the following vehicles are affected:
2017 Mercedes-Benz C300
2017 Mercedes-Benz C300 4Matic
2017 Mercedes-Benz C300 Coupe
2017 Mercedes-Benz C300 Coupe 4Matic
2017 Mercedes-Benz C43 AMG
2017 Mercedes-Benz C43 AMG Coupe
2017 Mercedes-Benz C43 AMG Cabrio
2017 Mercedes-Benz C63 AMG
2017 Mercedes-Benz C63 AMG Coupe
2017 Mercedes-Benz C63S AMG
2017 Mercedes-Benz C63S AMG Coupe
2017 Mercedes-Benz C63S Cabrio
2017 Mercedes-Benz GLC300
2017 Mercedes-Benz GLC300 4Matic
2017 Mercedes-Benz GLC43 AMG
2017 Mercedes-Benz S550
2017 Mercedes-Benz S550 4Matic
2017 Mercedes-Benz S550e
2017 Mercedes-Benz S600
2017 Mercedes-Benz S63 AMG 4Matic
2017 Mercedes-Benz S65
2017 Mercedes-Maybach S550 4Matic
2017 Mercedes-Maybach S600
Mercedes didn't go into details about what caused the defect other than saying it's the front seat belt pretensioners that are the problem and that replacement front seat belts aren't available.
If you own one of the recalled vehicles, watch for a recall notice in May 2017 and then another letter when Mercedes dealers have enough replacement seat belts.
Mercedes-Benz Steering Coupling Recall
Just days ago Mercedes recalled nearly 11,000 SUVs for problems with the steering couplings and the latest recall also involves steering couplings in an additional 168 vehicles.
2013-2014 Mercedes-Benz C250
2013-2014 Mercedes-Benz C300 4Matic
2013-2014 Mercedes-Benz GLK250 4Matic BLUETEC
2013-2014 Mercedes-Benz GLK350
2013 Mercedes-Benz C250 Coupe
2013 Mercedes-Benz C350
2013 Mercedes-Benz C350 4Matic Coupe
2013 Mercedes-Benz C350 Coupe
2013 Mercedes-Benz C63 AMG Coupe
2013-2015 Mercedes-Benz GLK350 4Matic
The automaker says the steering coupling connecting bolt may not be tight enough, possibly causing a complete loss of steering.
In the other Mercedes steering coupling recall, drivers can also lose the ability to steer the vehicles. But the previous recall was ordered because the steering coupling interlocks can wear down and cause a loss of steering, something dealers must fix by replacing the steering couplings.
This latest recall will see dealers only need to make sure the coupling connecting bolts are tight enough.
Mercedes-Benz says owners should watch for mailed notices in May 2017.
With questions about the Mercedes-Benz recalls, call the automaker at 800-367-6372.