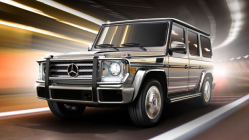 — Mercedes-Benz is recalling more than 10,800 SUVs at risk of losing the ability to be steered. Recalled are 2013-2016 G550, G63 AMG and 2016 G65 AMG SUVs with steering couplings that may not be tight enough.
If the steering coupling is loose, the steering coupling interlock can wear down due to an increased force on the parts and a driver can lose steering function.
In March 2015, a failed steering coupling was reported to Mercedes-Benz, something the automaker believed was an isolated incident caused by incorrect positioning of the steering coupling on the input shaft. Just as a precaution, a positioning gauge was installed at the supplier as a preventive measure.
However, two more incidents arrived in January 2016, causing Mercedes and the supplier to start investigations.
By April 2016, engineers determined the steering couplings hadn't been tight enough, then in August two more complaints came in and caused the automaker to initiate more tests. By March 2017, Mercedes determined the vehicles did fine once new steering couplings were installed.
The 2013-2016 G550, G63 AMG and 2016 G65 AMG recall will begin in May 2017. Mercedes-Benz dealers will need to replace the steering couplings in the vehicles to ensure drivers don't lose steering ability.
Owners of the recalled vehicles who have questions should call the automaker at 800-367-6372.
2013 Mercedes-Benz R320 4Matic CDI Recall
Separately, Mercedes-Benz ordered a recall for one vehicle, a 2013 R320 4Matic CDI vehicle equipped with a 6-cylinder diesel engine.
In a crash where the communication path between the airbag control unit and engine control unit is damaged, a secondary communication path may fail to shut off the engine or fuel pump. In a crash, either of those things that continue to run will increase the chance of a fire.
Mercedes will contact the owner and update the engine control unit with new software.