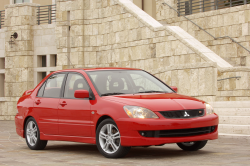 — Mitsubishi is recalling 66,000 Lancer cars to permanently replace passenger-side Takata frontal airbags at risk of rupturing during a crash.
The 2004-2006 Lancer, Lancer Evolution and the 2004 Lancer Sportback are included in the recall meant to be the final recall for the passenger Takata airbags.
The airbags currently in the cars are equipped with Takata airbags, even the Lancer cars that already had their passenger airbags replaced. Those replacements also used Takata airbag inflators equipped with ammonium nitrate, the explosive chemical used to deploy the airbags.
The chemical is inside metal inflators and with age and exposure to humidity, the ammonium nitrate can become unstable and turn a small explosive force into a live grenade. The inflators are dangerous because they don't have a drying agent called a desiccate used to protect the chemical from moisture.
However, Mitsubishi says the replacement passenger airbag inflators don't contain any ammonium nitrate.
The Lancer recall should begin October 22, 2017. Mitsubishi dealers will replace the passenger-side frontal airbag inflators with the new improved inflators, hopefully making this the last time Lancer owners will deal with this issue.
If you own a 2004-2006 Mitsubishi Lancer, Lancer Evolution or a 2004 Lancer Sportback and have questions about the recall, call the automaker at 888-648-7820.
Mitsubishi's number for this recall is SR-17-001.
CarComplaints.com has complaints you can check out about the Mitsubishi Lancer and Mitsubishi Lancer Evolution.