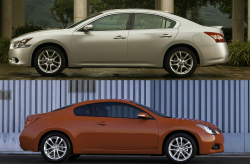 — Nissan Altima and Maxima steering lock problems will be fixed for free after the automaker announced a "service campaign" for 243,000 model year 2009-2010 Nissan Altima, Altima Coupe, Altima Hybrid and Maxima cars.
Although not a recall, the service campaign will fix steering locks that have plagued Altima and Maxima owners for years and caused owners to send their bank accounts into shock.
The cars are equipped with electronic steering column locks (ESCLs) that lock the steering wheels when the Altima and Maxima cars are parked and turned off. However, those steering locks have serious problems and can leave owners and their cars sitting in parking lots or driveways.
"My car wouldn't start and of course it was cold as crap and I wasn't home. Any who turns out it's because the steering lock control unit needs to be replaced. I didn't know this last month, I just found out this morning when the dealer called me. I had the same issue this week and turns out that unit needs to be replaced. In Dec I had my car towed but it started right up the next morning so it didn't cost me anything but it's going to cost me almost $1000 this time." - 2009 Nissan Altima owner / Baltimore, Maryland
The automaker says manufacturing problems cause the steering locks to malfunction after the cars have been shut off, preventing the engines from starting. The problem won't occur while driving, but the problems that do occur have caused owners a ton of grief and expense.
"On Sunday, 5 February 2017, I left my house to visit my brother at 10am and when I came back outside (20mins later) to my car, it would not start. The piece in question that was the problem... quoted by Nissan is the "steering lock." Monday, 6 February 2017, I received a call from the dealership to confirm my car issue (lock steering) and the cost was going to be $1104 to repair, with my military discount the cost was $985.46." - 2010 Nissan Maxima owner / Woodbridge, Virginia
Nissan has agreed to replace the steering lock with an electronic steering column box at no charge for parts and labor, a job that should take an authorized Nissan dealer about an hour to complete.
The electronic steering column box will replace the ESCL assembly but will no longer lock the steering wheel when the car is parked and turned off. The automaker says the steering wheel locking function is not necessary because the Altima and Maxima are equipped with anti-theft immobilizers to help prevent theft.
If you already paid for repairs to the steering column lock, Nissan will reimburse what you spent as long as you can show proof of repairs. If those repairs were above $1,000, you'll need to show proof of ownership of the car.
If you own a 2009-2010 Nissan Altima or Maxima, it's important to schedule an appointment with an authorized Nissan dealer before taking the car in for steering lock service. Genuine Nissan replacement parts used for repairs are covered by a 12-month/12,000-mile warranty.
The automaker says a customer can decline the repairs if they choose, but Nissan may decide to completely stop the service campaign anytime it chooses, and without notice.
Nissan says letters are going out to owners throughout March and April 2017, but Altima and Maxima owners who have questions should call Nissan at 800-647-7261, or visit NissanAssist.com.
CarComplaints.com has complaints about steering lock problems in the Nissan Altima and Maxima: