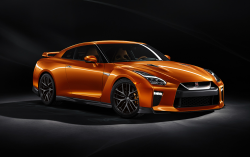 — A Nissan GT-R melted dashboard lawsuit has been filed in Florida alleging the heat and humidity destroys the dashboards in the $100,000 cars. Based on court documents, the proposed class-action lawsuit includes Florida owners and lessees of 2008-present Nissan GT-R cars.
Lead plaintiff Neil Heuer says he purchased a new 2009 Nissan GT-R and by 2016 the dashboard was melting and causing a severe glare from the windshield. Mr. Heuer claims the dashboard melted to the point of the plastic material becoming shiny and reflective, causing vision problems while driving.
According to the GT-R lawsuit, the plaintiff says he took the vehicle to a dealership and was told it would cost about $2,000 to replace the dashboard. Heuer says he asked Nissan to cover the cost of the replacement, but was told Nissan would not spend its money for the dashboard.
The lawsuit accuses Nissan of concealing alleged defects in the material of the dashboard and of selling vehicles the automaker knew were defective. The main allegation involves the material used to make the dashboards, a material the plaintiff says falls apart from sunlight and heat, especially in Florida.
Mr. Heuer also says his nose suffers from a noxious chemical smell emanating from the melted plastic, all while his eyes look at a mirror image of the dashboard in the windshield.
The GT-R lawsuit alleges Infiniti vehicles, produced by parent company Nissan, experienced melting dashboards years ago that convinced the automaker to offer extended warranties, yet Nissan ignores the alleged problems in GT-R cars.
The plaintiff says GT-R owners would have never paid what they did for the cars if Nissan would have admitted the alleged defect in the dashboards.
The Nissan GT-R lawsuit was filed in the U.S. District Court for the Southern District of Florida - Neil Heuer v. Nissan North America Inc.
The plaintiff is represented by Komlossy Law P.A., Giskan Solotaroff & Anderson LLP, and Z Law LLC.
The Nissan GT-R melting dashboard lawsuit in Florida follows a different lawsuit wrapping up for Florida owners of Nissan Altima cars. That class-action lawsuit was preliminarily settled in December 2016 concerning 2008-2009 Altima dashboards that melt, crack, get sticky and shine under the Florida sun.
If approved, the Altima settlement will see Nissan cover the cost of replacing the dashboards as long as owners pay $250 of the approximate $2,000 price tag.