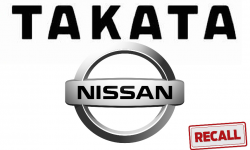 — Nissan says more than 152,500 of its vehicles will be recalled to replace passenger frontal Takata airbags inflators that are part of the airbag modules.
Nissan owners shouldn't feel alone as numerous automakers have been forced to recall vehicles after Takata recently announced an additional 5.7 million inflators need replaced.
Nissan is doing things in "Zones" based on locations of the country, but the automaker hasn't said when the recall will begin.
Nissan Versa
The 2012 Nissan Versa needs new passenger airbag inflators if the vehicle was originally sold or ever registered in the following Zone A areas:
Alabama, California, Florida, Georgia, Hawaii, Louisiana, Mississippi, South Carolina, Texas, Puerto Rico, American Samoa, Guam, the Northern Mariana Islands (Saipan) and the U.S. Virgin Islands.
Infiniti M35, M45, Nissan Versa
Nissan is recalling 2009-2010 Infiniti M35 and M45 vehicles, and 2009 Nissan Versa sedans and hatchbacks originally sold or ever registered in the following Zone B areas:
Arizona, Arkansas, Delaware, the District of Columbia, Illinois, Indiana, Kansas, Kentucky, Maryland, Missouri, Nebraska, Nevada, New Jersey, New Mexico, North Carolina, Ohio, Oklahoma, Pennsylvania, Tennessee, Virginia and West Virginia.
Infiniti FX35, FX45, M35, M45, Nissan Versa
Unless included in Zone A or Zone B, Nissan is recalling 2005-2008 Infiniti FX35 and FX45, 2006-2010 Infiniti M35 and M45 and 2007-2008 Nissan Versa vehicles originally sold or ever registered in:
Alaska, Colorado, Connecticut, Idaho, Iowa, Maine, Massachusetts, Michigan, Minnesota, Montana, New Hampshire, New York, North Dakota, Oregon, Rhode Island, South Dakota, Utah, Vermont, Washington, Wisconsin and Wyoming.
Affected owners should watch their mailboxes for official notices from Nissan and directions to get the vehicles to dealers to have the Takata front passenger airbag inflators replaced.
With questions or concerns, owners may contact Nissan at 800-647-7261.