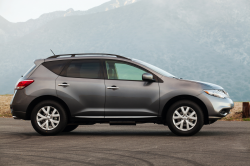 — About 56,800 Nissan Murano SUVs are recalled to fix power steering hose leaks that could cause the 2013-2014 Muranos to catch on fire.
The automaker says it learned of an incident in 2016 that occurred outside the U.S. where a Murano owner had trouble with a leaking power steering hose.
Engineers for the supplier (LS-Mtron) looked into the issue and found the power steering hose separated due to abnormal usage in high temperatures, but they couldn't duplicate the problem and the parts didn't show anything abnormal.
Nissan kept receiving complaints from overseas and then one incident occurred in the U.S., something that made Nissan look at the U.S. market.
More power steering parts were collected and analyzed and by March 2017, Nissan learned the supplier made errors by using incorrect clamp diameters that may cause the power steering hoses to separate.
Not only can a loss of power steering fluid cause more effort to steer the Murano, but fluid that leaks onto an engine or exhaust may cause a fire.
Nissan doesn't know when the recall will begin but has plans for dealers to install new high pressure power steering hose kits to prevent the hoses from separating and leaking.
If you have questions about your 2013-2014 Nissan Murano, please contact the automaker at 800-647-7261.
CarComplaints.com has complaints about the 2013 Nissan Murano, 2014 Murano and other model years of Nissan Surano SUVs.