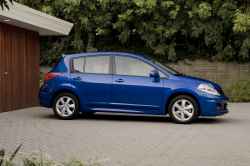 — Nissan is recalling 515,400 model year 2007-2011 Versa sedans and 2007-2012 Versa hatchbacks to replace driver-side Takata airbag inflators at risk of exploding.
Although tens of millions of vehicles from numerous automakers have already been recalled to replace Takata airbag inflators, this Nissan recall is the first of its kind.
Nissan says the problem is unique to a specific type of Takata airbag inflator that contains the drying agent (desiccant), calcium sulfate. No other Nissan vehicles are equipped with these specific PSDI-5 inflators because the other inflators use a different type of desiccant.
Testing got underway in March 2016 when Nissan started collecting Versa airbag parts from Florida, with all the inflators containing calcium sulfate. As of June 28, 2017, Takata has tested 895 Nissan PSDI-5 driver airbag inflators with calcium sulfate and none have ruptured, but one inflator did show an elevated internal pressure.
According to Takata, some of the Nissan Versa inflators show the ammonium nitrate propellant losing density over time, raising the potential of the inflators exploding.
Nissan says that just as with Takata airbag inflators that don't contain a desiccant, these specific inflators can be affected by years of exposure to high absolute humidity.
The automaker says it is working on getting replacement parts for the 515,000 Versa sedans and hatchbacks. Eventually Nissan dealers will replace the inflators with new ones made by a company other than Takata.
Nissan Versa owners can expect to be notified of the recall in September informing owners about the wait for replacement airbag inflators. Second notices will be mailed when Nissan knows it has enough inflators to finish the recall.
If you own a 2007-2011 Versa sedan or 2007-2012 Versa hatchback and have questions or concerns, contact Nissan at 800-647-7261.
CarComplaints.com has owner-reported complaints about Nissan Versa cars, both sedans and hatchbacks: