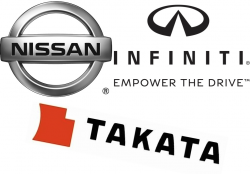 — Nissan has reached a Takata airbag settlement worth nearly $98 million to settle class-action lawsuits that take in about 4.4 million Nissan and Infiniti vehicles.
Nissan and Infiniti vehicles included in the settlement agreement are the:
2001-2003 Nissan Maxima
2002-2004 Nissan Pathfinder
2002-2006 Nissan Sentra
2007-2017 Nissan Versa Sedan
2007-2012 Nissan Versa Hatchback
2017 Nissan Altima
2017 Nissan Versa Note
2013-2017 Nissan NV 200 (includes taxicab version)
2008-2018 Nissan 370Z
2008-2018 Nissan 370Z Roadster
2009-2014 Nissan Cube
2010-2017 Nissan NV
2012-2017 Nissan Armada
2012-2017 Nissan Titan
2014-2017 Nissan Rogue
2016-2017 Nissan Maxima
2018 Infiniti QX30
2009-2017 Infiniti QX56 / QX80
2003-2008 Infiniti FX35 / 45
2006-2010 Infiniti M35 / 45
2002-2003 Infiniti QX4
2001-2004 Infiniti I30 / I35
The Nissan settlement follows on the heels of similar agreements over defective Takata airbags between consumers and BMW, Mazda, Subaru and Toyota. Those four automakers reached deals worth more than $550 million, with Toyota writing the largest check for about $278.5 million.
The Nissan agreement includes consumers who weren't injured by the Takata airbags. Nissan consumers who allege they were injured, other than economically, will be handled separately by Nissan and Infiniti.
Based on details of the $98 million agreement, current and former owners of the above vehicles could receive various benefits, including free rental cars while waiting for the Takata airbags to be repaired. Some owners will qualify for payments up to $500 and reimbursement payments for towing, childcare, previous rental car expenses or lost wages caused by the airbags.
Settlement money will also be used to convince Nissan and Infiniti owners to get their vehicles fixed because the majority of owners (70 percent) still haven't done that.
Many automakers have tried just about everything to convince owners to get the vehicles to dealerships, but owners continue to ignore the recall notices. For example, Honda has spent millions of dollars in an effort to convince owners to get the vehicles repaired, yet many owners continue to ignore the automaker.
Honda says some of the people who have been killed and injured by the exploding Takata airbags were mailed as many as 12 recall notices, but the vehicles were never repaired.
Nissan denies any wrongdoing in the Takata disaster and says it has been a victim of the airbag manufacturer just as everyone else. However, the automaker says it will settle the lawsuits to put the matter in the rear-view mirror.