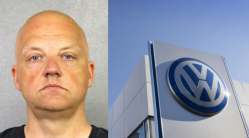 — Volkswagen has more problems in Germany as Munich prosecutors raided the offices of Jones Day, the large law firm VW hired to learn how the emissions scandal started and continued for years.
German prosecutors raided Jones Day and the offices of Audi's corporate division searching for any evidence to use against VW management or employees.
Volkswagen released a statement saying the raid by the prosecutor is "unacceptable in every respect" and is a "clear breach of the principles of the rule of law laid down in the Code of Criminal Procedure." According to VW, another court case shows a search on a law firm hired by another company is illegal, as confirmed by the Federal Constitutional Court.
VW says it will "take all the action at our disposal against these proceedings."
Documents supplied by Jones Day have been used to prosecute the case against Volkswagen, including by American prosecutors. But German prosecutors apparently believe the law firm may not be turning over all the evidence it found concerning VW's top management.
The automaker alleges millions of documents were searched by Jones Day, the same documents used to indict six Volkswagen executives in the U.S., including Oliver Schmidt, head of Volkswagen's environmental division in Michigan.
In January 2017, Schmidt was arrested in Miami as he was trying to return to Germany and charged with fraud and for his role in a conspiracy to defraud U.S. regulators and customers by using emissions defeat devices in hundreds of thousands of Volkswagen vehicles.
The federal complaint says Schmidt joined VW around 1997 and from 2012 to 2015 was general manager for VW in Auburn Hills, Michigan, where he was primarily responsible for communicating and coordinating with U.S. regulatory agencies.
During the time government agencies were asking for answers from VW about "clean diesel" vehicles, Schmidt allegedly concealed his knowledge of the defeat devices used to fool emissions tests for years.
A federal judge ruled Schmidt should be held in custody until January 2018 because the judge believes if Schmidt is allowed to leave jail, he will likely head back to Germany and never set foot on U.S. soil again.
U.S. District Court Judge Sean Cox says fraud and conspiracy allegations are very serious and since Germany doesn't allow its citizens to be extradited to the U.S., Schmidt should be kept where he can't skip town.
Schmidt's defense argues that using a GPS tracking device while confined to his home would keep Mr. Schmidt away from airports, and it was Schmidt who chose to travel to the U.S. even though he knew he could be charged.
In addition, family and friends of Schmidt told the court they raised more than $1.5 million in assets as bail money, but the judge wasn't swayed and said Mr. Schmidt will stay behind bars until his trial next year.
With at least eleven felony counts against him, Schmidt is technically looking at nearly 170 years in prison.