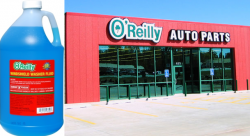 — An O'Reilly Auto Parts lawsuit alleges windshield wiper fluid freezes even though the wiper fluid is advertised as protected from freezing down to -20 degrees Fahrenheit.
The proposed class-action lawsuit was filed against O'Reilly Automotive Stores, Inc., based in Springfield, Missouri. According to the lawsuit, O'Reilly has known since at least 2010 the windshield washer fluid turns to solid material and cannot be pumped through a wiper fluid system.
In addition, O'Reilly also allegedly knew this would leave drivers without the ability to clean the windshields, creating a safety hazard while driving.
The plaintiff says he purchased O'Reilly Auto Parts wiper fluid since 2010 because it was advertised as handling temperatures of -20 degrees, but then had to purchase different washer fluid because he couldn't count on the wiper fluid.
The lawsuit also claims the plaintiff had to pay for repairs to his wiper fluid system to fix the problems caused by the freezing liquid.
According to the lawsuit, the washer fluid can't be pumped through the system because the liquid turns to a solid and leaves a driver unable to properly clean the windshield even above -20 degrees.
In addition to freezing in the small tank that holds the windshield wiper fluid, the fluid allegedly can freeze on the windshield and make driving a hazardous job.
The lawsuit alleges O'Reilly concealed knowledge about the faulty wiper fluid and made false promises about the product not freezing while knowing the fluid would freeze.
According to the lawsuit, O'Reilly's fraudulently caused consumers to buy products that couldn't stand up to the marketing hype, something that allowed the company to make money by deceiving consumers into purchasing the product.
Court documents say plaintiff Paul Weishaar filed the lawsuit to recover his money spent to buy the allegedly defective wiper fluid.
The O'Reilly windshield wiper fluid lawsuit currently includes consumers who purchased the product in Missouri.
The class-action was originally filed in the 22nd Judicial Circuit Court in St. Louis, but was moved to the U.S. District Court for the Eastern District of Missouri - Weishaar v. O'Reilly Automotive Stores, Inc.
The plaintiff is represented by the Holland Law Firm, and SWMW Law LLC.