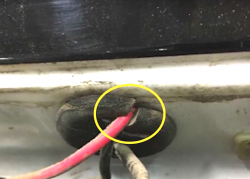 — Alleged Ford Explorer Police Interceptor carbon monoxide problems have led to three police officers suing the automaker after they allegedly crashed their patrol vehicles.
One officer who sued is from Austin, Texas, the same police department that pulled 60 Explorers off the roads after reports of carbon monoxide invading the cabins.
The lawsuit alleges officer Zachary T. LaHood was on patrol at about 1:30 in the morning when he started to feel sick, experiencing nausea, vision problems and a headache. LaHood says he passed out and almost hit a bus before the 2011 Ford Explorer he was driving made it to a parking lot.
LaHood says a hospital diagnosed him as being the victim of carbon monoxide poisoning, leaving him with neurological injuries. In addition to Ford, LaHood sued Austin dealership Leif Johnson Ford along with five unnamed companies LaHood says is responsible for his injuries.
Another police officer, this one in Henderson, Louisiana, has filed a lawsuit against Ford alleging the Ford Explorer patrol SUV allowed carbon monoxide into the cabin, causing the officer to crash.
Officer Brandy Sickey sued Ford blaming the automaker for causing her to pass out while driving a Ford Explorer Police Interceptor in April 2017. Sickey said the hospital confirmed she was poisoned by carbon monoxide fumes while driving, with dangerous levels in her bloodstream that could have killed her.
A similar lawsuit has also been filed by a former police officer in Newport Beach, California. Officer Brian McDowell says he was driving a Ford Explorer in 2015 when he passed out and crashed into a tree, but only after the SUV crossed the road in traffic. McDowell sued Ford claiming carbon monoxide caused him to pass out, leaving him unable to work.
In addition to the lawsuits, police departments across the country are installing carbon monoxide detectors and in some cases, agencies are reporting possible exposure to the harmful fumes.
Vermont has purchased about 200 carbon monoxide detectors for Ford Explorer police vehicles at a cost of $7 each, similar to detectors used by other police agencies. The detectors change color to let occupants know about the dangers if carbon monoxide levels reach unsafe levels.
Out of 200 SUVs, Vermont police officials believe up to 25 Explorer Police Interceptors may have carbon monoxide problems, but no officers have reported any symptoms. Vermont State Police have found SUVs with cracked manifolds that required dealer repairs at about $600 per vehicle, so officials are trying to find out if Ford will pay for past repairs.
A police department in Kansas reported carbon monoxide infiltrating one of the Explorer SUVs, something that caused Ford to send representatives out to test the vehicle.
After finding a part they thought might have been responsible for the exhaust leak, Ford and the police department discovered it wasn't the part. The real culprits were holes that weren't sealed when aftermarket police lights were added to the Explorer. The carbon monoxide readings returned to normal once the holes were sealed.
Ford announced in July that all Police Interceptors will be repaired for free, even if the automaker didn't cause the problem.
Ford sent out engineering teams to inspect Explorer Police Interceptors across the country, finding unsealed holes that allowed exhaust fumes to enter the SUVs. Carbon monoxide levels returned to normal once Ford properly sealed the gaps.
Ford and NHTSA say reports of exhaust fumes in Explorers and reports of carbon monoxide are two different subjects. NHTSA recently expanded and upgraded an investigation into complaints about exhaust fumes entering the cabins of Ford Explorers, both police and consumer models.
The investigation includes about 1.3 million model year 2011-2017 Explorer SUVs, but NHTSA says there is no evidence carbon monoxide contributed to the reported crashes or injuries.
The automaker says while working with various police agencies, engineers have consistently discovered the same types of holes and unsealed spaces created when aftermarket police-related equipment was installed in the rear of the Explorers. These modifications were made to the SUVs after they left Ford's factory, but Ford said it will make repairs for free to any Police Interceptors affected by unsealed gaps.
In addition to inspecting and sealing any holes where exhaust fumes and carbon monoxide can enter, Ford will provide new air conditioning calibration to bring in more fresh air during times of heavy acceleration.
Because cracked exhaust manifolds have been discovered in some of the vehicles, Ford will check for engine diagnostic codes that could indicate problems with the manifolds. However, a cracked manifold won't cause carbon monoxide levels so high as to create safety hazards to occupants.
As Ford works to fix police vehicles across the country, the automaker says any consumer who is concerned about their Explorer should call Ford at 888-260-5575.