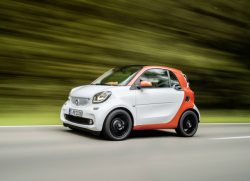 — Mercedes-Benz is recalling more than 5,000 model year 2016 smart fortwo cars to fix parking brake problems.
Mercedes learned of a report outside the U.S. in 2016 where a smart fortwo experienced a problem with the parking brake. Engineers investigated the issue and initially believed there were problems with the lock nut at the parking brake bowden cable.
The automaker says adjustments at the factory were wrong and testing shows the nut loosened because of repeated use of the parking brake lever.
Mercedes says the lock nut that holds the bowden cable to the parking brake lever might loosen over time and cause the parking brake lever to move around too much. The parking brake may not hold the car if the lever travels too far toward the floor, possibly causing the car to roll away.
A customer might have an idea there is a problem if the parking brake lever seems to travel farther than normal.
The smart fortwo recall will begin in September 2017 when dealers will replace the parking brake cable lock nuts.
In a separate smart fortwo recall, about 110 model year 2017 smart fortwo and smart fortwo Cabriolet cars have left front axle steering knuckles that can fail and cause drivers to lose control of the cars. Mercedes says defects occurred during the casting process that caused imperfections in the affected parts.
Dealers will inspect the left front axle steering knuckles when the recall starts in September 2017. Mercedes will replace any steering knuckles that have been affected by the casting imperfections.
With questions about either recall, call the automaker at 877-496-3691.