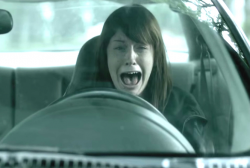 — More evidence of drivers fearing driverless cars shows almost all age groups are scared of riding in fully autonomous cars, even people born between 1995 and 2004.
Research conducted by J.D. Power for its 2017 U.S. Tech Choice Study shows that drivers don't mind certain autonomous technologies, but trust in the technology overall is declining.
The study found that compared with results from 2016, 11 percent more consumers born between 1995-2004 say they "definitely would not" trust the technology and 9 percent more people born before 1946 want no part of autonomous vehicles.
However, J.D. Power found people do have a lot of interest in specific technologies, including smart headlights, rear-view mirror cameras, emergency braking and steering systems, lane change assist, camera side-view mirrors and advanced windshield displays. In addition, consumers have a high interest in technology that can assist with collision protection.
Consumers born between 1946 through 1964 aren't happy at all with the prospect of driverless cars, at least for 40 percent of those "Baby Boomers" who don't see any benefit at all to driverless cars.
Although many people have no plans on buying driverless vehicles, younger consumers are the group most likely to want technology to control their cars, including by using an artificial intelligence-based personal assistants in the cars. Younger consumers are also more likely to want mobile devices to control infotainment systems and any kind of technology that can help with parking the cars.
The study also looks at what people are prepared to pay for autonomous technology. Automatic emergency braking is a technology that shows good evidence for cutting down on rear-end collisions and major automakers are now making the feature standard on vehicles. Researchers determined about 31 percent of consumers are willing to pay $700 for the technology if it includes an emergency steering system.
So-called convenience technologies don't do well in the study except with consumers born between 1995 and 2004. The study shows that age group is the most likely group to want digital key technology that replaces keys and fobs with smartphones and smartwatches. About 40 percent of that age group want the technology on their next vehicle and 58 percent of those consumers would pay $250 for the feature.
The J.D. Power study comes on the heels of research conducted by the American Automobile Association (AAA) which indicates about 75 percent of consumers are afraid of fully autonomous cars. But researchers found that consumers do seem excited by specific technologies such as blind spot monitoring, lane departure and forward collision warning systems.
Based on all available data to date, it's clear the government and automakers have a lot of work ahead to convince consumers to ride in vehicles without steering wheels and pedals.