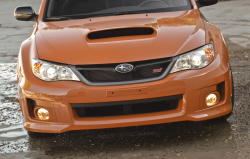 — Subaru WRX and WRX STI engine problems reported by owners have caused a lawsuit that alleges defects in the engines cause a sudden loss of power.
The proposed class-action lawsuit includes owners and lessees of 2009-2014 Subaru WRX and WRX STI cars allegedly equipped with engines that prematurely fail and lead to huge repair bills.
Plaintiff Michael Augustine claims the WRX engines are modified high performance versions of engines installed in other Subaru models, including the Outback and Forester.
But according to the lawsuit, even though the WRX engine horsepower is almost double the other engines, Subaru failed to do anything to prevent damage to the connecting rod bearings and crankshaft.
According to the plaintiff, the engines allegedly have severe problems with oil lubrication to the bearings and crankshafts which doesn't create enough lubrication to properly protect the engines from problems.
The plaintiff claims his 2010 Impreza WRX suffered complete engine failure in 2016 when the car had 73,000 miles on the odometer, something that shouldn't occur to an engine that should last for at least 120,000 miles.
While an engine failing at 73,000 miles is bad, the lawsuit alleges the owner of a 2009 Subaru WRX reported their car's engine went kaput at 9,000 miles.
Mr. Augustine says owners who have experienced the WRX engine problems may pay up to $8,000 to replace the engines that shouldn't have went down in the first place. The plaintiff says in addition to being stranded and paying thousands for repairs, there is a serious safety risk associated with a car that stalls without warning.
The Subaru WRX and WRX STI engine lawsuit was filed in the U.S. District Court for the District of New Jersey - Augustine, et al., v. Subaru of America, et al.
The plaintiff is represented by Kantrowitz, Goldhamer & Graifman, P.C.
A similar class-action lawsuit was filed against Subaru alleging 2013-2014 WRX and WRX STI cars are manufactured with defective "EJ" short block engines. The complaint says an insufficient supply of oil exists to coat the bearing surfaces, damaging the bearings and other metal parts.
This allegedly causes the bearings to disintegrate and fracture, followed by catastrophic engine failure.