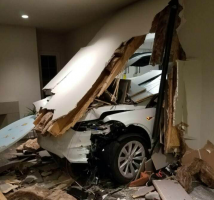 — A federal judge has refused to dismiss a lawsuit that alleges Tesla Model S and Model X vehicles have defects that cause unintended acceleration incidents.
The proposed class-action lawsuit was originally filed by Ji Chang Son, 46, a South Korean celebrity who claims he was returning to his California home with his son when his Tesla Model X accelerated at full throttle and crashed through the interior wall of the garage, finally stopping in the living room. More plaintiffs were added to the lawsuit that now includes both the Model X and Model S.
Owners say the vehicles shouldn't crash into objects even if a driver accidentally presses the gas pedal instead of the brake pedal, a claim Tesla says is absurd because no automaker makes "failsafe" cars.
The plaintiffs claim Tesla markets the Model X and Model S as equipped with automatic emergency braking where the computer will use the cameras and the radar sensors to determine the distance from objects in front of the vehicles.
The systems are designed to automatically apply the brakes to reduce the impact in frontal collisions, but the plaintiffs claim Tesla has programmed the systems to deactivate when they receive instructions from the accelerator pedal to travel full-throttle into objects.
The lawsuit alleges Tesla's automatic emergency braking operates when driving between 5 mph to 85 mph, but in some circumstances the system will not automatically apply the brakes or will completely stop applying the brakes.
According to the plaintiffs, the vehicles are too dangerous to drive without failsafe mechanisms because the Model S and Model X are capable of accelerating from 0 to 60 mph in 2.9 seconds.
The plaintiffs also claim that no matter what owners say about the vehicles accelerating on their own, Tesla always blames the drivers for allegedly hitting the gas pedals instead of the brake pedals.
Tesla filed a motion to dismiss the unintended acceleration lawsuit by telling the judge the vehicles aren't defective but the claims of owners are "fatally defective." Tesla further says the plaintiffs can't argue advertisements misled them when the plaintiffs can't prove they ever saw or heard any such advertisements.
U.S. District Judge James Selna allowed breach of warranty claims to proceed after saying the plaintiffs did a good enough job in showing the vehicles may contain defects. However, the judge did rule in favor of dismissing certain claims, including claims based on specific states.
The judge didn't exactly buy the claims of owners saying Tesla falsely advertised the vehicles, but the court ruled the plaintiffs can amend their claims, in addition to amending claims concerning unjust enrichment and trade practice violations.
The Tesla unintended acceleration lawsuit was filed in the U.S. District Court for the Central District of California - Son et al. v. Tesla Motors, Inc.
The plaintiffs are represented by McCune Wright Arevalo, LLP, and Stradling Yocca Carlson & Rauth, P.C.