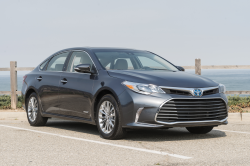 — Toyota is recalling more than 670 model year 2016 Avalon Hybrid and Camry Hybrid cars in the U.S. to make sure the front driveshafts are installed correctly. Toyota says up to 42 cars have driveshafts that weren't assembled properly and the only way to find those cars is to recall 671 hybrids.
The misassembled driveshafts can cause the cars to vibrate and lead to separation of components inside the driveshaft assemblies, causing the cars to lose propulsion while driving. In addition, the transmissions won't be able to hold the cars when they are shifted into PARK.
Toyota didn't say much about the Avalon Hybrid and Camry Hybrid recall, but owners should watch for mailed notices in August with details about how dealers will check the serial numbers on both front driveshafts. Dealers will replace the driveshafts if needed.
The recall is expected to begin August 11, 2017. Owners may contact Toyota at 800-331-4331 and refer to recall number H0M.
2016 Toyota Tundra Recall
In a separate and much smaller recall, Toyota says five model year 2016 Tundra trucks are recalled because the knee airbag modules attached to the instrument panel mounting brackets have the wrong bolts.
By using the incorrect bolts, the airbag modules can loosen over time and make the airbags ineffective in a crash.
Don't worry if your truck is included in the recall because Toyota has already replaced the bolts on the affected Tundras.
CarComplaints.com has owner-reported complaints you can read about the Toyota Tundra, Toyota Avalon Hybrid and Toyota Camry Hybrid.