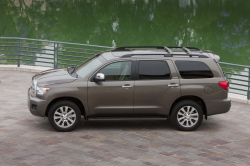 — Southeast Toyota Distributors is recalling more than 1,300 trucks and SUVs to replace lug nuts that can break.
The 2013-2017 Toyota Tundra trucks and Sequoia SUVs are equipped with 20-inch Rockstar wheels installed by Southeast Toyota or a Southeast Toyota dealer.
In February 2017, Southeast Toyota Distributors received a report from a dealer about a vehicle with four cracked lug nuts. Southeast gathered the lug nuts for an independent lab to test, finding the lug nuts didn't meet standards. However, Toyota wasn't sure if the lug nuts were those that were initially installed by Southeast, so Toyota decided to monitor the situation.
In April, Southeast received another report of a vehicle with four cracked lug nuts and reopened its investigation. Southeast Toyota worked with the wheel supplier to find why the lug nuts were cracking and determined certain nuts manufactured between September and December 2015 did not meet specifications.
Toyota will supply new lug nuts that will be installed and torqued correctly and dealers will inspect the wheels for unusual wear in the area of the lug nuts. Wheels with wear due to the lug nuts will be replaced.
The 2013-2017 Toyota Tundra and Sequoia recall is expected to begin June 23, 2017. Owners may contact Southeast Toyota at 866-405-4226 and ask for info about recall number SET17A.
CarComplaints.com has owner-reported complaints about the Toyota trucks and SUVs named in the recall: