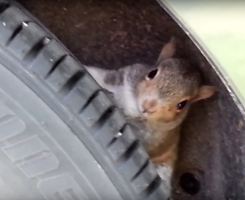 — A Toyota soy wiring class-action lawsuit alleges rats, mice, squirrels and other animals are enticed to chew the wires that causes damage to all kinds of electrical components, leaving Toyota owners to pay thousands for repairs.
Additionally, the lawsuit alleges those repairs are made with the same problematic soy wiring, causing owners to continually pay for repairs.
The proposed class-action lawsuit includes all consumers in Massachusetts who incurred out-of-pocket expenses related to soy wiring and who currently own or lease, or previously owned or leased, any of the following vehicles:
2011-2016 Toyota 4Runner
2013-2016 Toyota Avalon
2012-2016 Toyota Camry Hybrid
2009-2016 Toyota Camry
2014-2016 Toyota Corolla
2014 Toyota FJ Cruiser
2009, 2012, 2015 Toyota Highlander
2009 Toyota Matrix
2010-2015 Toyota Prius
2012-2015 Toyota Prius C
2008-2016 Toyota Rav4
2014-2016 Scion TC
2012-2015 Toyota Sequoia
2011-2014 Toyota Sienna
2014, 2015 Toyota Tacoma
2007-2016 Toyota Tundra
2010, 2013 Toyota Venza Ltd
Plaintiff Ray Roscoe says wiring in cars used to be coated with a glass, plastic or polymer-based insulation, but automakers now routinely use materials to save money and allegedly be good for the environment. Toyota allegedly did this with the wiring, choosing soy-based insulation over petroleum-based insulation.
Owners claim the automaker uses the soy wiring to save money at the expense of customer safety because the damaged wires cause multiple safety hazards.
The plaintiff claims Toyota is using the soy wiring as a good source of incoming for the company and dealerships by charging customers with the repair costs and by selling traps, repellents and other items as preventive measures.
In place of covering repairs under warranty, the automaker allegedly says the chewed wires are classified under "other environmental conditions" which are not covered.
The warranty specifically excludes damage from "[a]irbone chemicals, tree sap, road debris (including stone chips), rail dust, hail, floods, wind storms, lightning and other environmental conditions."
Roscoe says he purchased a 2012 Toyota Sequoia from an authorized Toyota dealership in Massachusetts in May 2015 for $37,884.80. Mr. Roscoe says he also purchased an additional extended warranty called a "Vehicle Service Agreement" for $1,250.
During a trip in May of 2016, a mouse crawled up the leg of the plaintiff's wife and again crawled onto her shoulder later during the trip while she was riding in the passenger seat. His wife says she screamed and had to whack the the mouse off of her two times during the trip.
When Roscoe brought his Toyota Sequoia to the dealership for a routine oil change on December 8, 2016, he allegedly learned mice had caused extensive damage to the truck. The mice had chewed through so much of the wiring the dealership allegedly told him to immediately stop driving the truck because it could catch fire.
Mr. Roscoe requested that Toyota replace the wiring with wiring that wasn't soy-based but Toyota allegedly told him that rodent damage to the wiring in his truck was not covered under his warranty as it was considered an "outside source of damage to the car."
The dealer allegedly had to rip the entire truck apart in order to remove the rodents and repair the damage. When the plaintiff received his truck back from the dealership, the interior was allegedly covered in scratches due to seats and sides being removed and put back together.
Because of the soy wiring, the plaintiff says he incurred out-of-pocket expenses including lost use of his truck for nearly two months, rental car fees and a decreased resale value.
Mr. Roscoe claims he paid $613.57 to Hertz for a rental car for three weeks and three days and his wife had to share her car for an additional month because they could not afford to pay for the rental car. The lawsuit alleges Mr. Roscoe's wife struggled to find rides to and from work with friends and co-workers.
According to the lawsuit, Mr. Roscoe's insurance company paid out $16,793.79 to the Toyota dealership to replace the soy wiring with the exact same rodent-attracting wiring despite a request not to use the same wiring.
The Toyota soy wiring class-action lawsuit was filed in the U.S. District Court for the District of Massachusetts - Roscoe v. Toyota Motor Sales USA Inc.
The plaintiff is represented by Connor Morneau & Olin LLP.
Toyota has been hit with soy wiring class-actions in the past, including one from 2016.