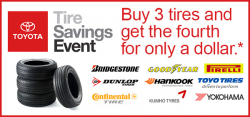 — A Toyota "tire savings event" lawsuit alleges consumers get ripped off by an offer to "buy 3 tires, get the 4th for $1." According to the Toyota tire savings event lawsuit, the "regular price" of the tires offered for the promotion was increased above the normal selling price.
The plaintiff claims he was offered three tires at $173 each, plus one tire at $1, when in fact the tires had been regularly sold at $149.30 per tire prior to the Toyota tire savings event.
According to the lawsuit, plaintiff Joseph Presti complained and received a $35 "loyalty" discount, but still had to pay more than $149.30 per tire for the three tires. Additionally, the Toyota lawsuit alleges the price of the tires was less than $150 each after the promotion ended.
The plaintiff says the Federal Trade Commission and the courts have long held that a seller cannot refer in advertising to a "usual" or "regular" price unless it's a price at which the seller ordinarily sells the thing that is advertised.
The Toyota tire savings event lawsuit alleges the automaker engaged in unfair and deceptive practices by advertising a consumer could buy 3 tires and get the 4th for $1, all while selling the three tires at prices in excess of those for which they normally sell.
The proposed class-action lawsuit includes all consumers who made tire purchases from dealers in California, Illinois, Massachusetts, New Hampshire and New York and who bought tires during the Toyota tire savings event that advertised three tires at regular price and a fourth tire for one dollar.
In addition, the consumer must have paid a price for the three tires in excess of the price of which they were regularly sold by the dealer and not as part of the discount tire savings event at any time during a period beginning three years prior to February 27, 2017.
The Toyota tire savings event lawsuit was filed in the U.S. District Court for the District of Massachusetts - Joseph Presti, et al, v. Toyota Motor Sales Inc., and Colonial Imports Corp.
Presti is represented by the Family and Consumer Law Center of Claude Lefebvre, Christopher Lefebvre, P.C.