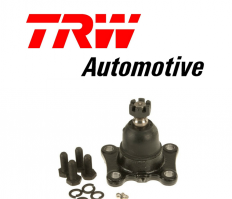 — More than 6,200 TRW ball joints for use on Toyota vehicles are recalled because drivers could lose steering control. TRW Automotive sold the lower ball joints for Toyota 4Runner, Sequoia and Tundra trucks and SUVs, but those ball joints weren't built correctly.
TRW told Toyota the left and right lower ball joints were equipped with vented dust shields on the ball joint studs that can allow all kinds of contaminants to enter.
The ball joints will start to wear out and loosen, causing the ball joint studs to separate from the steering knuckle. A driver will lose the ability to steer the vehicle once the stud separates from the knuckle.
TRW says the ball joints were built between February 2013 and July 2014.
A recall date wasn't announced and owners should watch for notices from TRW, not from the automakers.
If you believe you may have a Toyota 4Runner, Sequoia or Tundra equipped with TRW lower ball joints, contact the company at 248-863-2437.
TRW Automotive is a popular manufacturer of aftermarket ball joints and other vehicle parts, and in 2015 TRW was acquired by a large company called ZF Friedrichshafen.
ZF has been in the news the past few years because of electronic gear shifters used in Chrysler vehicles. Those shifters have caused major headaches for Chrysler after hundreds of owners claimed the shifters were confusing and didn't work as intended.
The ZF shifter is also the focus of a lawsuit in the death of actor Anton Yelchin after he was killed by a rollaway Jeep Grand Cherokee.
ZF was also the cause of a recall of more than 500,000 transmissions sold to multiple automakers. That left the job of recalls to the auto manufacturers to fix ZF transmissions that could mistakenly slip into NEUTRAL.