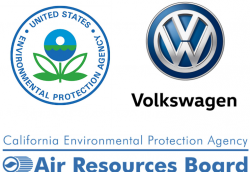 — Volkswagen finally received approval to fix certain 2-liter diesel vehicles to make their emissions systems legal, at least for about 67,000 of the 475,000 illegal 2-liter "clean diesel" vehicles.
The fix has been approved for what Volkswagen calls Generation 3 diesel vehicles from model year 2015, including the 2015 diesel Volkswagen Beetle, Beetle Convertible, Golf, Golf SportWagen, Jetta, Passat and the 2015 Audi A3.
Customers have the option of getting their vehicles modified or taking an offer from Volkswagen to buy back the vehicles, while lessees may cancel their leases without additional cost or penalty.
Officials with the Environmental Protection Agency (EPA) and the California Air Resources Board (CARB) say the approved emissions modifications will reduce nitrogen oxide emissions by 80 to 90 percent.
The announcement comes 16 months after Volkswagen admitted it used emissions "defeat devices" in millions of cars worldwide between 2009 and 2015.
The devices, in the form of sophisticated software, triggers the emissions control systems to emit legal levels of nitrogen oxides when the cars are undergoing tests for emissions levels in the laboratory. But out of the lab setting and back on the open roads, the emissions systems deliver nitrogen oxides up to 40 times above legal limits, meaning the cars should have never been certified for sale in the U.S.
The emissions modification will require changes to the software and hardware, something dealerships will handle in two phases. The first phase involves a software change that is available to VW and Audi owners now. The second phase involves additional software changes as well as hardware changes that are not yet available.
In the first phase, VW will remove the defeat device software and replace it with software that directs the emission controls to function properly. The second phase will start about a year from now when VW will install more software updates as well as a new diesel particulate filter, diesel oxidation catalyst and a nitrogen oxide catalyst.
CARB and the EPA approved the fix after VW submitted test and technical data that showed the modification won't negatively affect the vehicles, including the fuel economy. Environmental regulators tested the repair methods and confirmed the modifications worked as the automaker said they would.