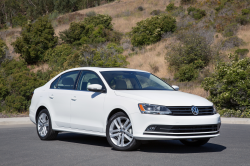 — Volkswagen has ordered two recalls that involve incorrect tire labels that could cause drivers to overload their vehicles.
One recall has 4,875 model year 2017 Jettas being called back to install tire information labels and another 800 model year 2017 Beetle and Jetta GLI vehicles are recalled to do the same.
VW didn't go into details, but both recalls involve tire pressure labels with maximum vehicle load ratings printed on the labels that are too high. This can cause a driver to overload the vehicle without knowing it, placing too much pressure on the tires.
The automaker says it discovered the problem during a routine audit of the vehicles.
Both recalls are scheduled to begin in March 2017, when Volkswagen dealers will install the correct tire information labels on the vehicles.
Owners with questions should call Volkswagen at 800-893-5298. VW's 2017 Jetta recall number is 01B8 and the 2017 Beetle and Jetta GLI recall number is 01B9.
CarComplaints.com has complaints about the Volkswagen Beetle, Jetta, and many other Volkswagen vehicles.