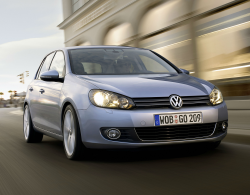 — Volkswagen is recalling certain more than 135,600 model year 2009-2010 Volkswagen Jetta A5 sedans, 2009 Volkswagen Jetta SportWagens, Eos, GTI, Rabbit, Audi A3 and 2010 Volkswagen Golf A6 vehicles to fix stability control problems.
VW says the control unit for the anti-lock brake system (ABS) can fail when the electronic stability control and ABS activates.
Volkswagen engineers found a fault inside the anti-lock brake system control module that can cause the module to fail whenever the electronic stability control or ABS system activates. A driver will notice warning lights for the brakes, the anti-lock braking system and the electronic stability control system.
In this condition, the brake system used with the vehicle stability control function likely won't work, increasing the chance of the vehicle losing control.
VW blames the problem on the use of an incorrect compound of solder on the ground connection of the power controller unit that may cause a failure to resist stress and cracks. A crack can limit electrical flow when the electronic stability control or ABS systems activate, and cause a complete deactivation of the systems.
Volkswagen says a customer should immediately contact a dealer if the warning lights come on and then go off when the ignition is turned off and then back on.
The automaker doesn't know when the recall will begin, but dealers will eventually update the the ABS control module software to improve the module's self-testing abilities. Any module that fails the new diagnostic test will be replaced.
Affected owners of the Volkswagen Jetta A5, Jetta SportWagen, Eos, GTI, Rabbit, Audi A3 and Volkswagen Golf A6 may contact Volkswagen customer service at 800-893-5298.