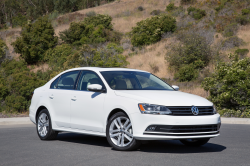 — Volkswagen is recalling two model year 2017 Jetta cars that have vehicle identification number markings that don't match the VIN numbers printed on the plates near the windshields.
This makes the two cars illegal according to regulatory requirements.
The problem is so severe that Volkswagen must replace both the cars, something the automaker has already completed.
CarComplaints.com has complaints about Volkswagen Jetta cars and many other models of VW vehicles.