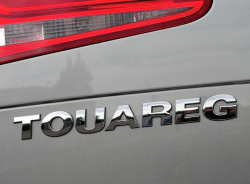 — Volkswagen is recalling nearly 74,000 model year 2004-2007 Touareg SUVs that can leak fuel that could possibly start fires.
The SUVs are gasoline-powered and have fuel filter flanges that can crack and cause gas to leak. That will be trouble if it occurs near any kind of ignition source.
The SUVs have 4-bar fuel pumps used with gasoline engines only, so diesel SUVs aren't affected by the recall.
Federal safety regulators contacted VW in February about complaints concerning the fuel pumps and the automaker found additional complaints in its records. Volkswagen collected 100 parts from the field to inspect the fuel pumps, and that's when engineers determined the problem.
Those engineers found that aging and oxidization reduced the strength of the fuel pump components, causing those components to intrude into the fuel filter flange. This allegedly causes tiny cracks to appear in the flange material and leaves the material vulnerable to gas leaks.
The exact same fuel pump filter flange problems caused Porsche to recall 50,000 Cayenne SUVs in September.
Volkswagen says replacement parts aren't currently available, so owners should watch for the first recall notices around November 19, 2017, then second notices will be mailed when parts are available.
VW dealers will inspect the fuel filter flanges for cracks and replace the flanges if needed. A protective cover will be installed onto the filter flanges if no cracks are discovered.
Owners of 2004-2007 Touareg SUVs may contact Volkswagen at 800-893-5298 and refer to recall number 20Ai.
CarComplaints.com has complaints about the SUVs named in the fuel pump recall:
Volkswagen Touareg - 2004 / 2005 / 2006 / 2007 / All model years