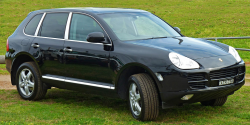 — Porsche is recalling more than 50,000 Cayenne SUVs because the fuel pump filter flanges could leak gas and at the least create an odor of fuel, and at the most create a fire hazard if fuel hits a hot ignition source.
The recalled gas-powered vehicles include the 2003-2006 Cayenne S and Cayenne Turbo, 2004-2006 Cayenne and 2006 Cayenne S "Titanium" edition vehicles.
Some Cayenne owners say they looked into doing the work on their own, but were told of the large amount of work that needs to be performed just to reach the fuel pumps.
"Strong smell of gasoline evident on driver's side rear when stationary or even not running and parked. The culprit is the fuel pumps/filters/seals for the two gasoline tanks. One Porsche parts supplier put it this way on their diy repair page "the question is not if, but when you experience this problem." The solution is to take out the rear seats, cut the carpet, remove the seat belt anchors, remove the cover under the carpet to access the pumps and filter. This is a problem Porsche must know about as they have changed the design of the pump parts." - 2006 Porsche Cayenne owner / Blanchard, Oklahoma
Porsche dealers will replace the fuel filter flanges with new flanges that have a protective film, a job that should take less than two hours. But the automaker doesn't know when the recall will begin.
Owners may contact Porsche at 800-767-7243. Porsche's number for this recall is AH10.
Read below what owners say about their Porsche Cayenne SUVs:
Porsche Cayenne - 2003 / 2004 / 2005 / All model years