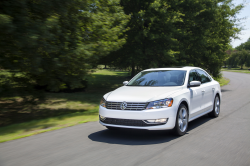 — Volkswagen Passat cars are recalled after VW received reports of car fires caused by leaking grease. More than 84,000 model year 2012-2014 Passats are included in the recall and all equipped with diesel engines and direct-shift transmissions.
The fire risk is caused by an underbody heat shield that may not be long enough to protect parts from grease leaks.
VW knew in July 2016 about fires that were damaging the half-shaft grease boot pipes. Engineers determined a heat shield wasn't long enough to protect the right half-shaft grease boots, causing grease to leak from the boots. The leaking grease then hit hot exhaust parts or the diesel particulate filters and resulted in fires.
Engineers also determined diesel particulate filters overheated because they were being overloaded with soot caused by failures of the upper boost hoses. VW learned Passats made up to July 2012 had higher failure rates of the upper boost hoses and if the hoses fail, compressed air from the turbo chargers can escape before entering the combustion chambers.
That little problem can cause more fuel to be injected than required, leading to a buildup of soot. An overheating diesel particulate filter from a leaking boost hose can send the car into "limp mode" and trigger a warning light on the instrument panel.
The Passat recall should begin in July 2017 when Volkswagen dealers will replace the driveshaft heat shields with longer shields and in some cases the upper boost hoses will be replaced.
Owners who have already paid for repairs can ask the automaker about a reimbursement program.
If you own a 2012-2014 VW Passat and have questions about the recall, contact the automaker at 800-893-5298. Volkswagen's number for this recall is 23W5.
CarComplaints.com has complaints about the 2012 VW Passat, 2013 Passat, 2014 Passat and other model years of Volkswagen Passat cars.