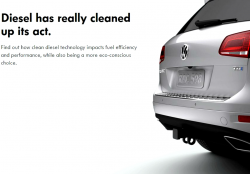 — Volkswagen says a lawsuit filed on behalf of former owners and lessees of Audi and Volkswagen "clean diesel" vehicles should be dismissed because those customers weren't included in previous class-action lawsuits for a reason.
The plaintiffs say they didn't qualify for the class-action lawsuits that won current owners and lessees big payouts and buybacks involving the following vehicles.
2.0-Liter Diesel Vehicles
2009-2015 Volkswagen Jetta
2009-2014 Volkswagen Jetta SportWagen
2012-2015 Volkswagen Beetle
2012-2015 Volkswagen Beetle Convertible
2010-2015 Audi A3
2010-2015 Volkswagen Golf
2015 Volkswagen Golf SportWagen
2012-2015 Volkswagen Passat
3.0-Liter Diesel Vehicles
2009-2016 Volkswagen Touareg
2014-2016 Audi A6 Quattro
2014-2016 Audi A7 Quattro
2014-2016 Audi A8
2014-2016 Audi A8L
2014-2016 Audi Q5
2009-2016 Audi Q7
The proposed class-action lawsuit includes all customers who owned or leased any of the affected vehicles and who "no longer owned, held an active lease for, or otherwise had a legal interest" in the vehicles on September 18, 2015.
Volkswagen told the judge those former owners and lessees are attempting to pry money out of the automaker's pockets even though the former owners didn't lose anything. When they sold or traded their diesel vehicles, or ended the lease agreements, the transactions occurred before the emissions scandal was known.
VW argues there was no loss of value because all involved transaction parties didn't know the cars were equipped with illegal emissions defeat devices.
Volkswagen also says the proposed class-action should be dismissed because attorneys who represented current owners and lessees in settled litigation specifically said former owners and lessees shouldn't have been included in previous lawsuits because those customers suffered no economic harm.
The plaintiffs say they did suffer actual harm by paying for diesel vehicles allegedly friendly to the environment that in reality were polluting the air because VW cheated on emissions tests.
According to the lawsuit, the plaintiffs chose the "clean diesel" cars for the purpose of helping the environment and paid a lot of money specifically based on the environmental claims, something VW disputes.
Attorneys for VW argue the lawsuit never mentions an amount of money the plaintiffs paid based on an alleged claim of lower nitrogen oxide emissions.
The Audi and Volkswagen lawsuit was filed in the U.S. District Court for the Northern District of California, San Francisco Division - Nemet et al v. Volkswagen Group of America, Inc. et al.
The plaintiffs are represented by Hagens Berman Sobol Shapiro LLP, and the Paynter Law Firm, PLLC.