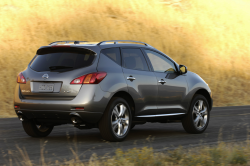 — Model year 2009 Nissan Murano ABS actuators will be replaced for free to repair soft brake pedal problems in 93,000 SUVs.
Nissan says it isn't an official recall, but dealers will perform a voluntary "service campaign" to fix problems with the anti-lock braking systems.
Model year 2009 Murano drivers report visits to dealerships where technicians typically replace the master cylinders and other parts that never fix the brake pedal problems.
"Brake pedal is soft, dealer replaced master cylinder, didn't fix issue. Now dealership says ABS actuator with a WHOOPING cost of $2400. Are you kidding me. I love my Nissans and this is my third but this has shaken my confidence in them and is going to be my last one!"
In addition, some drivers say the SUVs finally slowed down and stopped, but only after slamming into other vehicles.
"...I was three to four car-lengths from the SUV in front of me that was stopped at the red light; therefore, put on my brakes to stop. However, when I put on my brakes, my brake pedal seemed to had slipped and went all the way down to the floor board. On impact into the rear of the SUV that was sitting at the red light, my left hand took the entire impact of the accident. Consequently, my hand is currently swollen to double its normal size."
The customer went on to reference a federal defect investigation opened by the National Highway Traffic Safety Administration (NHTSA) in May 2017. The investigation, which to date hasn't been closed, was opened after model year 2009 Murano drivers complained about the dangers of brake pedals that fell to the floorboards.
Owners said they often experienced soft brake pedals after the anti-lock braking systems activated from hitting potholes, manholes or rough road surfaces.
Nissan says the service campaign will require dealers to flush the brake fluid, install new DOT 4 brake fluid and inspect the ABS actuators on 2009 Nissan Murano SUVs.
Dealers will replace the ABS brake actuators if they fail inspection after the fluid has been flushed and replaced. Additionally, every Murano will get a new brake fluid cap that specifies the use of DOT 4 fluid and the owner's manual will be updated.
Nissan says the job could take 2.5 hours without replacing the ABS actuator and longer if the part needs to be replaced. If an ABS actuator replacement is required, a complimentary rental vehicle is available upon request while parts are on order.
Owners who have already paid their own money to have the ABS actuators replaced should ask Nissan about reimbursement. Murano owners will need proof they paid for the repairs, including proof of ownership if repairs cost more than $1,000. However, the automaker will not reimburse owners for brake pads or calipers.
Owners who have questions about the 2009 Nissan Murano ABS actuator service campaign should call the automaker at 800-867-7669.
CarComplaints.com has complaints about 2009 Murano brake problems.