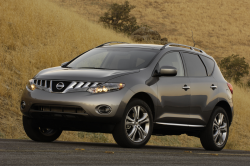 — Owners who complain about 2009 Nissan Murano brake issues will be happy to hear the government is investigating why brake pedals lose pressure and go to the floorboards, especially when the cars hit bumps or uneven road surfaces.
The National Highway Traffic Safety Administration (NHTSA) opened the investigation after receiving nearly 60 complaints about possible issues with anti-lock braking system (ABS) hydraulic control units, devices that control hydraulic pressure to the wheel brake assemblies.
Murano owners say the issues typically occur after the anti-lock braking systems activate when hitting potholes, uneven or rough road surfaces or even hitting a manhole.
In addition to brake pedals pressed to the floor for nothing, owners of 2009 Murano cars say the expense of fixing the issues can be overwhelming.
"Brake pedal is soft, dealer replaced master cylinder, didn't fix issue. Now dealership says ABS actuator with a WHOOPING cost of $2400. Are you kidding me. I love my Nissans and this is my third but this has shaken my confidence in them and is going to be my last one!" - 2009 Nissan Murano owner / Jacksonville, Florida
NHTSA says after a car loses braking ability, the problem can correct itself until the anti-lock braking system activates again. Considering the complaints have grown over time as the vehicles travel more miles, safety regulators believe whatever is causing the failures involve parts that gradually fail over time.
Safety regulators also say many consumers report that replacing the anti-lock braking system hydraulic control units finally fixed the issues.
In addition to the costs associated with trying to fix the brake issues, many reports describe the serious danger caused by brake pedals that go to the floorboards, including a 2009 Murano owner who says the brake pedal was on the floor but the car failed to stop. The car traveled into the right lane where another vehicle crashed into the Murano.
"The air bags failed to deploy. The driver sustained back injuries, the front passenger sustained back and cervical injuries and the rear passenger sustained head injuries. A police report was filed. All passengers required medical attention. The vehicle was not diagnosed or repaired. The manufacturer was notified of the failures. The failure mileage was 109,000." - 2009 Nissan Murano owner / West Park, Florida
NHTSA says it opened the preliminary investigation to determine if a safety defect exists and if about 110,000 cars should be recalled.
CarComplaints.com will update our website with results of the 2009 Nissan Murano brake issues investigation.
Read what owners say about 2009 Murano brake problems here and here.