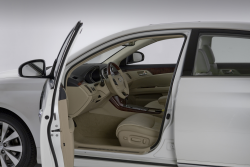 — Toyota is recalling about 19,400 model year 2012 Avalon cars in the U.S. and 215 cars in Canada to fix possible problems with the front seat belt inner buckles that may affect how the airbags deploy.
Toyota found the supplier made mistakes during manufacturing that can fail to show if the seat belt is buckled, although the problem likely only affects replacement parts, not the originals.
Toyota says the replacement front seat belt inner buckles could have been installed by dealers or non-Toyota providers that would have used the same service parts.
The automaker didn't explain how it could happen, but the airbag systems could be affected by the buckle problems and possibly leave occupants unprotected in crashes.
Not all of the recalled Avalons are affected by the defects, but Toyota must recall all the cars to guarantee the defective parts are replaced.
The 2012 Toyota Avalon recall will begin in September 2018 so dealers can inspect and replace any defective front seat belt inner buckles.
The National Highway Traffic Safety Administration hasn't released details about the recall, but CarComplaints.com will update this page when those details are known.
Affected 2012 Avalon owners with questions should call Toyota at 800-331-4331.
Have a complaint about your Toyota Avalon? Add your complaint here, about any vehicle. Or check out what drivers say about their 2012 Avalons or other model years of Avalon cars.