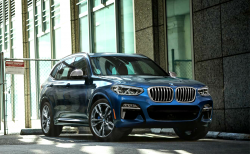 — BMW is recalling more than 17,000 model year 2018 BMW X3 xDrive30i and X3 M40i SUVs because the rear spoilers may fly off while driving, spoiling the day of the drivers traveling behind the vehicles.
On February 13, 2018, two incidents were reported in which the rear spoilers detached from the SUVs.
An inspection of the vehicles indicated missing screws caused the spoilers to detach, so BMW expanded the inspection to 1,735 vehicles. Of those, three had rear spoilers that were missing the fastening screws.
The automaker conducted driving tests at different speeds which showed the missing screws did allow the spoilers to fly away while driving.
While a detached spoiler can cause trouble for anyone on the road, BMW says it doesn't know of any crashes or injuries related to the problem.
The 2018 BMW X3 xDrive30i and X3 M40i rear spoiler recall will begin May 1, 2018. BMW dealers will inspect the spoilers and make sure they are properly attached.
If you own one of the recalled SUVs and have concerns, call BMW at 800-525-7417.