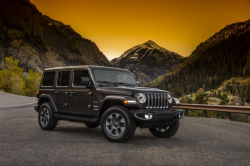 — The government has been petitioned to investigate 2018 Jeep Wrangler frame welds after the National Highway Traffic Safety Administration (NHTSA) received two complaints about the welds.
According to the petition, 2018 Jeeps have weld defects all over the frames, especially on JL Wranglers. NHTSA says the petitioner provides a laundry list of problems with the frame welds, including problems with weld penetration, areas where the welds dripped or splashed, porous welds and areas of "excessive slag."
Based on documents submitted by the petitioner, the allegedly defective frame welds can cause catastrophic failures in an estimated 220,000 Wranglers.
Chrysler recalled more than 24,000 model year 2018-2019 Jeep Wranglers because of weld problems on the front track bar brackets that could cause the brackets to separate from the frames.
The automaker says the Wrangler recall was issued after owners complained about steering problems due to the faulty welds, a problem FCA blamed on parts manufactured with off-seam weld locations.
Drivers say they notice the steering wheels off-center, noise from the front of the Jeeps and illuminated warning lights and messages related to the stability control.
Jeep dealers were told to repair any faulty track bar bracket welds, a remedy NHTSA will look at when deciding to grant or deny the petition to investigate the frame weld problems.
CarComplaints.com will update our website with NHTSA's decision.