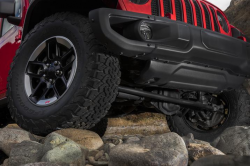 — A Jeep Wrangler recall issued by Chrysler (FCA US) will see more than 24,000 of the 2018-2019 Jeeps brought back to dealers because the front track bar brackets may not be welded properly.
This could cause the brackets to separate from the frames and leave drivers with sudden steering problems.
About 18,055 of the recalled Wranglers are in the U.S., another 1,415 Jeeps are in Canada, another 76 are recalled in Mexico and more than 4,600 are recalled outside North America.
FCA opened an investigation in August following complaints about front track bar brackets separating from the frames. The automaker determined the problem started at the Toledo assembly plant on May 7, 2018, when parts with off-seam weld locations were used during production until August 21, 2018.
Jeeps built outside those periods have correct welds and are not affected by the Wrangler recall.
Before the bracket completely separates from the frame, a driver may hear noise from the front-end and notice the steering wheel is off-center. In addition, a "Service Electronic Stability Control" message may appear and the stability control light will illuminate.
Although a separated bracket could cause steering problems for a Wrangler driver, FCA says it doesn't know of any crashes or injuries related to the welds.
The Jeep Wrangler recall is expected to begin November 17, 2018. Jeep dealers will inspect and repair any faulty track bar bracket welds.
If you own a 2018-2019 Jeep Wrangler and want to learn more, call Chrysler at 800-853-1403 and ask about recall number UA5.
CarComplaints.com has complaints from Jeep Wranger owners you can read here.