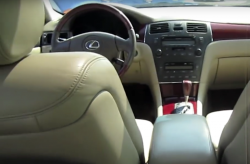 — A Texas jury has ruled against Toyota in a lawsuit that alleges Lexus ES 300 front seatbacks collapsed and injured two children in the back because the seats were defective.
Toyota fought the suit by claiming the ES 300 wasn't defective, but the jury awarded a combined verdict of $242.1 million after finding the failure of the front seatbacks caused the injuries to the children.
The crash occurred on September 25, 2016, when Benjamin Reavis was driving a 2002 Lexus ES 300 on State Highway 75 in Dallas County, Texas. His wife Kristi Reavis was in the front passenger seat, and their 3-year-old son and 5-year-old daughter were restrained in the back seat when the Lexus was struck from the rear by a Honda Pilot.
According to the lawsuit, both the driver's side seat and front passenger's side seat failed and collapsed into the back seat where the children were seated. The children's heads were struck by the collapsing seats and/or their parents as the front seats collapsed into the back seat.
The children sustained skull fractures and brain injuries among other permanent injuries.
The lawsuit alleges the Lexus ES 300 was dangerous and defectively designed because the front seats weren't attached correctly to the base and because the seats could distort in relation to the base. In addition, the front seats could allegedly detach from their tracks in rear impact collisions causing the seats to fail.
The plaintiffs claim this chain of events never would have happened if the Lexus had been well-designed.
The nine-man, three-woman jury deliberated more than eight hours before finding Toyota had failed to warn about the seats, with $143.6 million awarded in punitive damages after jurors agreed the actions of Toyota amounted to gross negligence.
According to the plaintiffs, Toyota decided to protect front seat occupants from crash injuries like whiplash at the expense of rear seat passengers.
"This is a danger that Toyota has known about. This company has had plenty of time to design around these safety shortcomings or at least provide the public with warnings. Our children deserve better." - Frank Branson, attorney for the family
The Lexus ES 300 seatback lawsuit was filed in the 134th Judicial District in Dallas County - Benjamin Thomas Reavis and Kristi Carol Reavis et al. v Toyota Motor Sales, USA, Inc., et al.
The plaintiffs are represented by the Law Offices of Frank L. Branson.