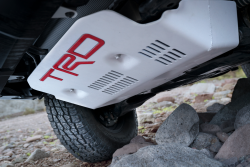 — Southeast Toyota Distributors (SET) is recalling 1,300 model year 2017-2019 Toyota 4Runner SUVs equipped with TRD wheel packages. According to SET, the gross vehicle weight rating on the labels may be wrong, a problem that could cause owners to overload the 4Runners.
The label problem was discovered during a routine audit in September 2018 that showed the accessory weight for the TRD wheel package was incorrect.
The TRD wheel package is installed by SET at the request of Toyota and considered standard equipment on the special edition TRD 4Runner.
SET contacted Toyota to determine whether the TRD Wheel package weight is included in the final vehicle certification. Toyota said that it's not included in the final vehicle certification and therefore should be included on the load carrying capacity modification label.
Federal standards mandate load carrying capacity modification labels must be accurate within 1 percent of the weight of the accessories installed on the 4Runners, but the labels fail this requirement.
Southeast Toyota says 15 SUVs cannot be fixed by simply replacing the weight labels, so owners of those 15 vehicles will be asked to contact SET to choose how to proceed. The dealer may do an exchange or upgrade of accessories at no charge.
Southeast Toyota Distributors will mail owners updated certification labels once the 4Runner recall begins in December 2018.
Owners may contact SET at 866-405-4226 and use recall number SET18A.
CarComplaints.com has complaints from drivers of Toyota 4Runners and other Toyota models.