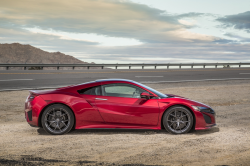 — Acura is recalling about 1,760 NSX sports cars in two recalls to repair problems with brake lights and gas tanks.
In a recall of 793 model year 2017 NSX cars, Acura dealers will need to replace the center high-mount brake lights because electrical shorts could blow the fuses.
The automaker says a short-circuit could occur that blows the fuse and leaves the center brake light unable to work. A driver will see illuminated warning lights on the dashboard and then discover the engine won't restart once the car is shut down.
There haven't been any reports of crashes or injuries.
Acura will try to contact all affected owners by phone to schedule dealer appointments, but those who can't be reached by phone will receive mailed recall notices in November 2018.
The second NSX recall affects 967 cars that need their left and right fuel tanks replaced.
Acura says the 2017-2018 models are equipped with two separate gas tanks that are connected with crossover pipes. However, the automaker knows the pipes weren't installed correctly and could allow fuel to leak over time.
Fires are possible due to the gas leaks, but Acura says it is unaware of any crashes, injuries or fires related to the fuel tanks and crossover pipes.
As with the brake light recall, Acura will attempt to notify owners by phone, but owners who can't be reached will receive mailed recall notices in November 2018.
Affected Acura NSX customers with questions should call 844-682-2872.