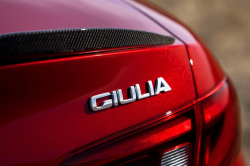 — Fiat Chrysler (FCA US) is recalling more than 37,000 Alfa Romeo cars and SUVs after reports of two possible fires related to catalytic converters that overheated.
The 2017-2018 Alfa Romeo Giulia sedans and 2018 Stelvio SUVs may have engine control software that can allow an engine condition that causes the overheating.
The automaker says less than one percent of the vehicles will need new catalytic converters while all the vehicles need their engine control software updated. FCA says the new software will help the engine detect and mitigate the operating condition that causes the overheating.
Even if an overheated converter doesn't cause a fire, the vehicle could lose power and stall while driving, giving the driver a warning of problems through an illuminated warning light. If the condition occurs a driver should immediately call their dealership.
Chrysler says it's unaware of any crashes or injuries, but with two possible fires it's important all Alfa Romeo owners heed their recall notices.
About 34,360 of the cars and SUVs are in the U.S., 2,619 are in Canada and 90 are recalled in Mexico.
Customers will be notified in October 2018, but concerned owners should call Alfa Romeo at 866-932-3881.