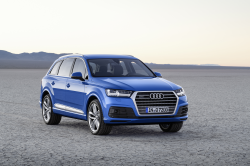 — Audi Q7 squeaking brakes have caused a lawsuit that alleges model year 2015-2018 Q7 SUVs are equipped with defective braking systems that cause loud high-pitched noise that creates a safety hazard.
The lawsuit alleges squealing and squeaking noises occur during routine driving when a driver uses the brake pedal. According to the plaintiff, Audi allegedly knows the Q7 brakes are so loud that everyone on the road is startled just from a driver applying the brakes.
Plaintiff Valeria Mercado says she leased her 2017 Audi Q7 in January 2017 for more than $76,000 from a California Audi dealership. By May 2017 the brakes started making loud squeaking and squealing noise when she applied the brake pedal.
Mercado says the noise occurs whether she is driving forward or in reverse and is allegedly so loud she can hear it with the windows closed while music plays in the Q7.
Mercado says she immediately informed the Audi dealer about the loud brake noise and has allegedly taken the SUV to the dealer multiple times since May 2017. The plaintiff claims one time technicians told her the SUVs are too heavy for the brakes, but other times technicians said they didn't know what was causing the squeaking noise.
The plaintiff says she also contacted Audi USA in an attempt to resolve the loud brake noise, but she was allegedly referred back to her dealership for answers.
According to the plaintiff, the dealer told her on November 8 the affected brake parts for her Q7 were on back order, allegedly because of the high number of Audi Q7 owners who are having the same squeaking brake problems.
Audi technicians allegedly told her they had no idea when they could attempt to repair her brakes, but to date Mercado says her SUV brakes are still waking the dead.
According to the proposed class-action lawsuit, Audi Q7 drivers have complained to the National Highway Traffic Safety Administration about the headaches of listening to loud brake noise coming from the luxury SUVs.
"2018 Q7 has high pitched brake squeal while backing & gradual braking. Audi USA and the dealership claim this is "normal". When I said; "To who?" they replied Audi is working on a fix but no time table is available. OK, so it's not normal then. Audi insults my intelligence by saying this is normal."
"I picked up my Audi I was told they did not find anything wrong with my brakes. At that time the attendant mentioned that other Q7s had something going on with the brakes, but not my Q7. Finally, it got so bad I took it in on Oct 24, 2016...Picked it up on Oct 26, 2016, it seemed ok for a day and then it started up again worse than ever! so took it in to service on Nov 23, 2016, checked it on Nov 28, 2016, found nothing wrong with the brakes, conclusion, I ride the brakes!"
The Audi driver went on to say they have owned at least 20 new vehicles but never experienced anything like this.
"spoke to the GM jeff lee and will not repair unless we pay for it! frustrated and feel cheated!!! spent almost $90,000 with all the extras!"
The lawsuit alleges the brake noise is so loud that pedestrians pay attention to the noise instead of placing their attention on other hazards. In addition, the plaintiff says there is no way an expensive vehicle like the Q7 should suffer from a problem like this.
Audi and its dealers are allegedly fully aware of the squeaking brake noise because the automaker sent at least three technical service bulletins to dealerships, with all three TSBs related to squealing brakes.
The proposed class-action lawsuit includes nearly 100,000 former and current owners and lessees of 2015-2018 Audi Q7 SUVs.
The Audi Q7 squeaking brakes lawsuit was filed in the U.S. District Court for the Central District of California, Eastern Division - Valeria Mercado, et al., vs. Audi of America, LLC, et al.
The plaintiff is represented by Ahdoot & Wolfson, P.C., Greg Coleman Law, and Whitfield, Bryson & Mason.