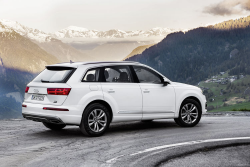 — An Audi Q7 recall has been announced for more than 12,000 model year 2009-2015 Q7 SUVs which could be overloaded if owners follow the information on the certification labels.
Those labels are wrong regarding the gross axle weight ratings for the Q7 SUVs.
An overloaded Q7 could cause drivers a lot of problems, but the incorrect labels also violate federal safety standards.
During an internal review of tire pressure calculations in May 2022, Audi found possible problems with the Q7 vehicle load calculations.
An investigation was opened which found the axle weight printed on the certification labels was overstated by 30 kg on Q7 SUVs with 21-inch wheels.
Even though some of the Audi Q7 SUVs have been on the road since 2009, Audi is not aware of any warranty claims, customer complaints or other field reports.
Audi expects to mail recall letters April 14, 2023, and dealerships will install new labels over the old certification labels, and the new labels with contain the correct gross axle weight ratings.
Audi Q7 owners may call the automaker at 800-253-2834 and ask about certification recall number 50G5.