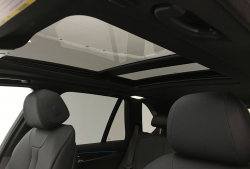 — A BMW exploding sunroof alleges multiple BMW and MINI models have panoramic sunroofs/moonroofs that are prone to shattering due to design defects that cost thousands of dollars to repair.
Included in the proposed class-action lawsuit are all consumers in the U.S. who purchased, own, owned, lease or leased the following vehicles equipped with sunroofs:
2005-2013 BMW 3 Series
2004-2018 BMW X5
2005-2018 X3
2009-2018 BMW X1
2008-2018 MINI Clubman
2006-2008 MINI Cooper
2011-2018 MINI Countryman
2009-2018 MINI Hardtop
2013-2016 MINI Paceman
According to the lawsuit, BMW started equipping vehicles with panoramic sunroofs in 2004 and marketed them as luxury upgrades, charging consumers premium prices for the glass roofs. The lawsuit alleges the panoramic sunroofs are at risk of shattering, in addition to the non-panoramic versions in BMW 3 Series vehicles.
The lawsuit alleges the BMW sunroofs are defective from their design to the way they were manufactured and the automaker has refused to pay for replacement sunroofs even when the vehicles are under warranty.
This allegedly leaves the cost in the laps of owners, sometimes forcing owners to pay thousands of dollars to get their panoramic sunroofs back on the vehicles.
Owners of various BMW models have complained to the government about the shock caused when the sunroofs exploded.
"...a loud blast, like a bomb, suddenly jolted my car! fearfully, I continued to steer the car looking for a safe place to pull over, which was approximately 150 feet beyond a curve in the road. I pulled over, my daughter and I were ok but bewildered when we saw a large gaping hole in the center of my sunroof! I immediately thought that we had been shot or a large object had hit us. Glass chips began falling on us. A DC police officer arrived and quickly accessed the incident. He assured us that based on the outward protrusion of the remaining glass, the impact was from within, it had exploded, not imploded."
"I was driving on the highway and the sunroof on my car just exploded. Unfortunately I did not have the cover closed so when it exploded it fell and hit me in the head. It fell in a large chunk onto me then shattered. I was not going under anything and was driving on a straightaway at about 70mph."
According to the lawsuit, BMW knows the sunroofs can explode and shatter, yet continues to conceal that knowledge from consumers and customers.
The BMW exploding sunroof lawsuit was filed in the District of New Jersey by Kessler Topaz Meltzer & Check, LLP.
CarComplaints.com has complaints about the BMW models named in the lawsuit.