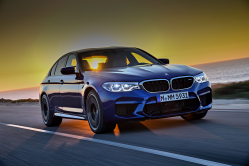 — BMW is recalling more than 840 new 2018 M5 cars with fuel pumps that may fail and cause the engines to stall.
BMW initially became aware of fuel pump problems in April after receiving a complaint about a 2018 M5 that suffered from fuel delivery issues. More pumps failed later that month and engineers determined the fuel pump engine control unit software had problems.
BMW found that all M5 cars built from August 21, 2017, to April 17, 2018, contained bad software, but the automaker found no reports of crashes, fires or injuries related to the fuel pumps.
The 2018 BMW M5 recall is expected to begin July 6, 2018. Dealers will update the engine control unit software, but owners with questions should call the automaker at 800-525-7417.