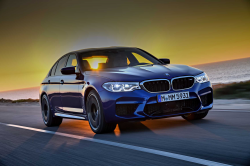 — BMW is recalling more than 1,600 new M5 cars because drivers could be fooled by the gas gauges.
The 2018 BMW M5 vehicles have fuel level sensors in the fuel tanks that can stick against the in-tank gas lines.
This can cause the fuel gauge to show the wrong fuel amounts, including larger amounts than are really available.
The automaker learned about the problem through warranty claims concerning unusual gas gauge readings. Engineers inspected the tanks and fuel delivery units and found problems with the fuel level sensors.
BMW says the problem was caused by mistakes made during installation of the in-tank fuel lines inside the fuel delivery units.
According to documents filed with the government, BMW is unaware of any reports of crashes or injuries related to the inaccurate gas gauges.
BMW dealers will secure the in-tank fuel lines to keep them from contacting the fuel level sensors once the recall begins September 10, 2018.
In a separate recall, BMW says 12 model year 2018 BMW 540d xDrive vehicles could stall while driving. The crankshaft sensor may be equipped with the wrong firmware and prevent the sensor from properly processing input from the crankshaft reluctor ring.
The recall is expected to begin August 27, 2018. BMW dealers will replace the crankshaft sensors, but customers with questions about either recall should call 800-525-7417.