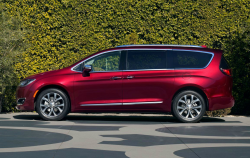 — A Chrysler Pacifica Plug-in Hybrid recall of 10,000 minivans has been ordered by the automaker due to a risk of stalling or fires.
The 2017-2018 Chrysler Pacifica Plug-in Hybrids can experience problems after they have been running in electric propulsion mode. Chrysler says the gas-powered engine may fail to restart properly and cause unburned fuel to enter the exhaust catalyst.
The minivan may lose motive power or the unburned fuel in the catalyst may catch fire in the 360-degree out-of-phase engines.
Chrysler (FCA US) opened an investigation in October 2018 after three reports of exhaust catalysts overheating and causing fires in vehicles that had been repaired during a May recall to update the powertrain control modules.
The automaker says 16 field reports have been received about the problems in the Pacifica minivans, but no crashes or injuries have been tied to the defects.
According to Chrysler, the powertrain control module software cannot detect the mis-synchronized engines, leaving the electric motors to continue to spin the engines. This will cause large amounts of unburned fuel to enter the exhaust catalysts.
The Chrysler Pacifica Plug-in Hybrid recall is expected to begin December 8, 2018, when dealers will update the powertrain controller module software and replace the catalytic converters as needed.
Pacifica owners with questions should call FCA at 800-853-1403 and refer to recall number U94.
CarComplaints.com has Chrysler Pacifica Hybrid complaints and complaints from drivers of Chrysler Pacifica minivans.